Leader in the Iberian sector since 1933. Our history continues to grow.
 JULIAN MARTIN ha conseguido las certificaciones BRC e IFS como parte de sus esfuerzos por elevar sus estándares de calidad al más alto nivel.
JULIÁN MARTÍN IBERIAN HAM
Tradition
Ham Masters
Pastures
Tradition
Since 1933 maintaining the philosophy of tradition and excellence in the product of the early days, guaranteeing the taste and character of the Iberian breed, only in the world and one of the key reasons why Spain is linked to the term of gastronomy.
Iberian pork has always been the symbol of our company, for that reason our main concern is the care of this animal and everything that surrounds it, which leads to the quality of our products.
Julián Martín is country, is life, is Guijuelo and is Iberian.
Ham Masters
Pastures
Acorn-fed Ham 100% Iberian
Our crown jewel. Racial purity, excellent flavor, more than four years aging in natural cellars in the
Sierra de Guijuelo
and
100% acorn-fed porks
. With each thin slice of this gourmet piece, its delicate fragrance of pure acorns, the fruit of the
Montanera
, is released.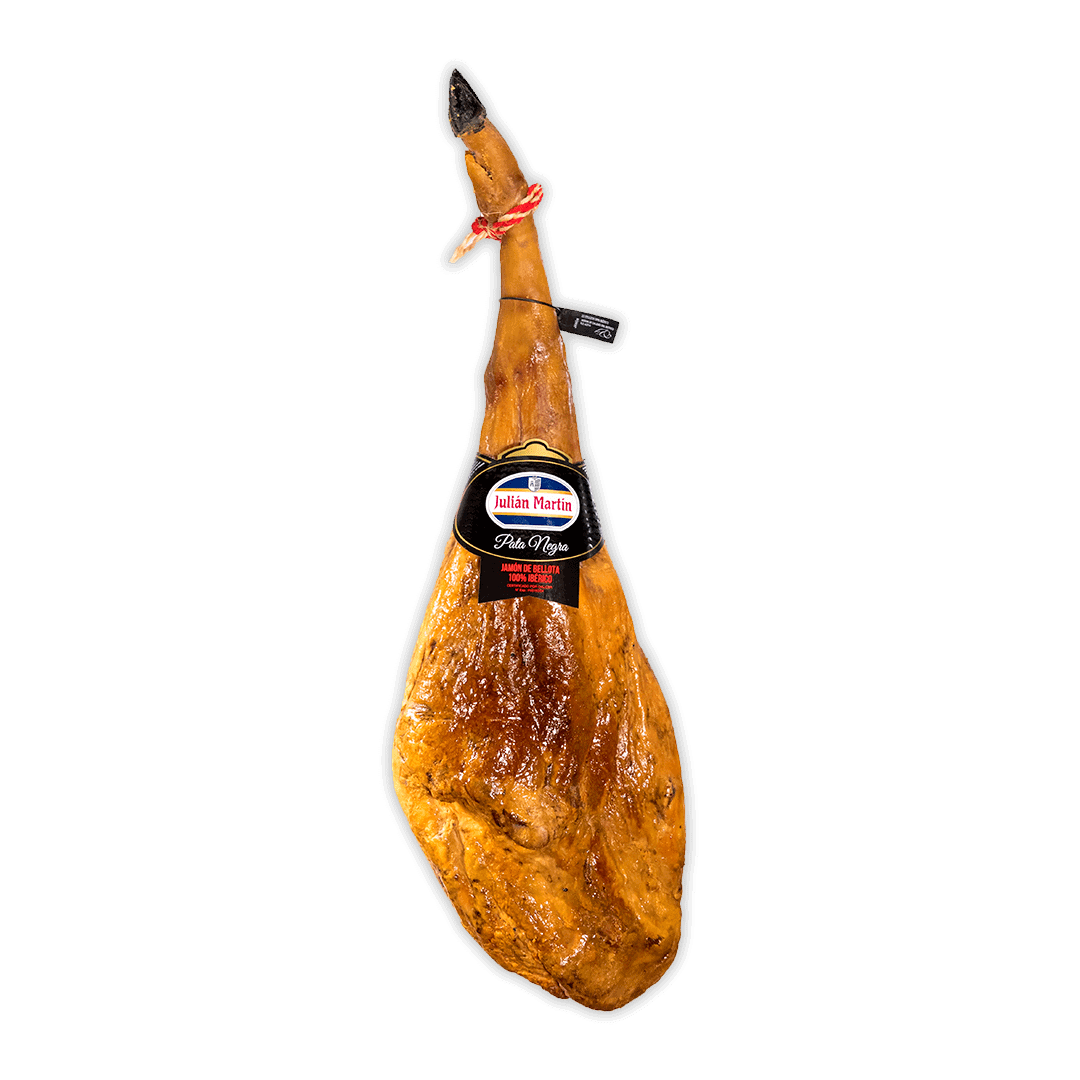 Iberian Acorn-fed Ham
Subtle
aroma,
intense
flavor,
delicate
texture
and a characteristic ruby
color.
We can describe our
Iberian Acorn-fed Ham
, but only if you buy Iberian Ham from Julián Martín will you be able to taste the best ham in the world. It comes from acorn-fed porks.
Iberian Free-range grain-fed Ham
From Iberian breed porks fed on natural
pastures
and
feed.
They are
aged
for
24 months with traditional systems
in natural
cellars.
As they are raised in intensive farming, these animals develop their musculature and fat infiltration better.
Iberian grain-fed Ham
A
fine
and
persistent flavor
on the
palate!
Our G
rain-fed
Ham from Guijuelo is a high quality piece from Iberian breed porks fed on top
quality cereals
, and cured in centenary cellars that maintain the qualities of a ham with high expectations.