You cannot add "Semi-boneless Acorn-fed Shoulder 100% Iberian" to the cart because the product is out of stock.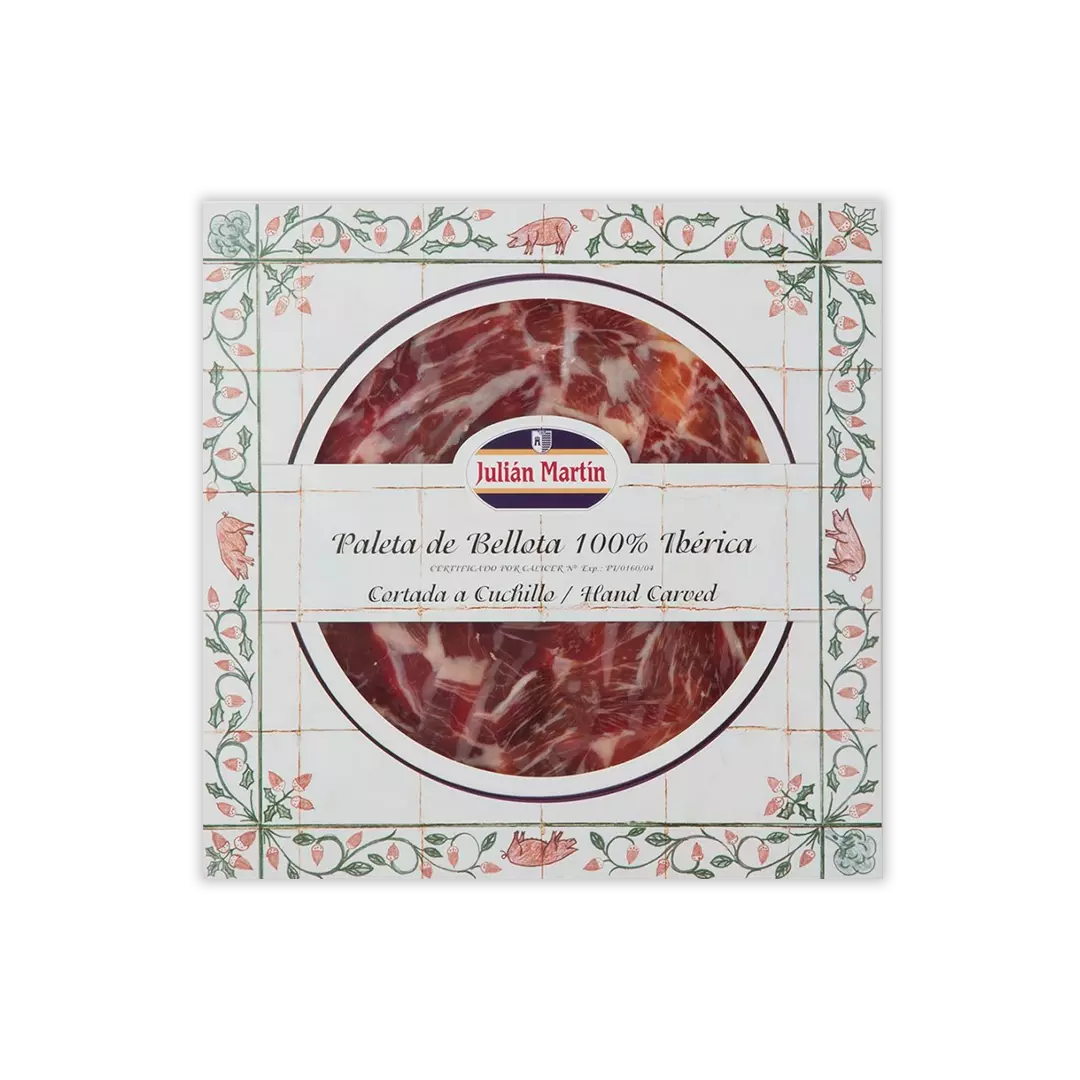 Hand-sliced Acorn-fed Shoulder 100% Iberian Sliced
Iberian Acorn-fed Shoulder slices in envelopes of 100 g each; sliced with knife by ham-carving masters. Gourmet shoulder of the highest quality coming from 100% iberian pigs.
Knife-sliced Acorn-fed Shoulder 100% Iberian:
The hand-sliced shoulder is vacuum-packaged as soon as it is sliced by the ham-carving masters so it retains all its organoleptic qualities until consumption (6 months).
Once selected the piece of Acorn-fed Shoulder 100% Iberian (maximum quality) we proceed to cut it by hand in fine slices mixing the different parts of the piece (cushion/ knuckle) with the aim of combining the different flavors and aromas of the piece.
As with all vacuum-packed sliced meats, it is highly advisable to leave the envelope for about 20 minutes at room temperature in order to get the ideal consumption temperature.
Acorn-fed Shoulder 100% Iberian Julián Martín:
The highest iberian quality: acorn-fed shoulder 100% iberian cured 2 years in Guijuelo following the traditional manufacturing process (cured in drying sheds and natural cellars). It comes from pigs raised in our pastures with acorns.
Tasting notes: accentuated/ intense acorn flavor with a final aftertaste. Reddish cut and whitish marbling (almost transparent).
The 100% IBERIAN acorn-fed range is Julián Martín's commitment for a top quality product in which currently important customers such as El Corte Inglés, Los Barriles restaurants (from Grupo Oter) in Madrid, Lavinia company or El Corte Inglés Wine Club rely on.
Why buy directly from Julián Martín's store?
In Julián Martín, we are manufacturers who have been specialized for 3 generations exclusively in the production of high quality Iberian Ham and Sausages. We have maintained a tight product quality policy for more than 80 years.
We have kept the traditional manufacturing process almost unchanged: the quality of Iberian ham is only achieved with exceptional raw materials, a special climatology and time, a long period of time…
Our Guarantee
If you are not satisfied with the product we change it at no additional charge. For more information you can contact us at +34 923 581 151 or by e-mail tienda@julianmartin.es