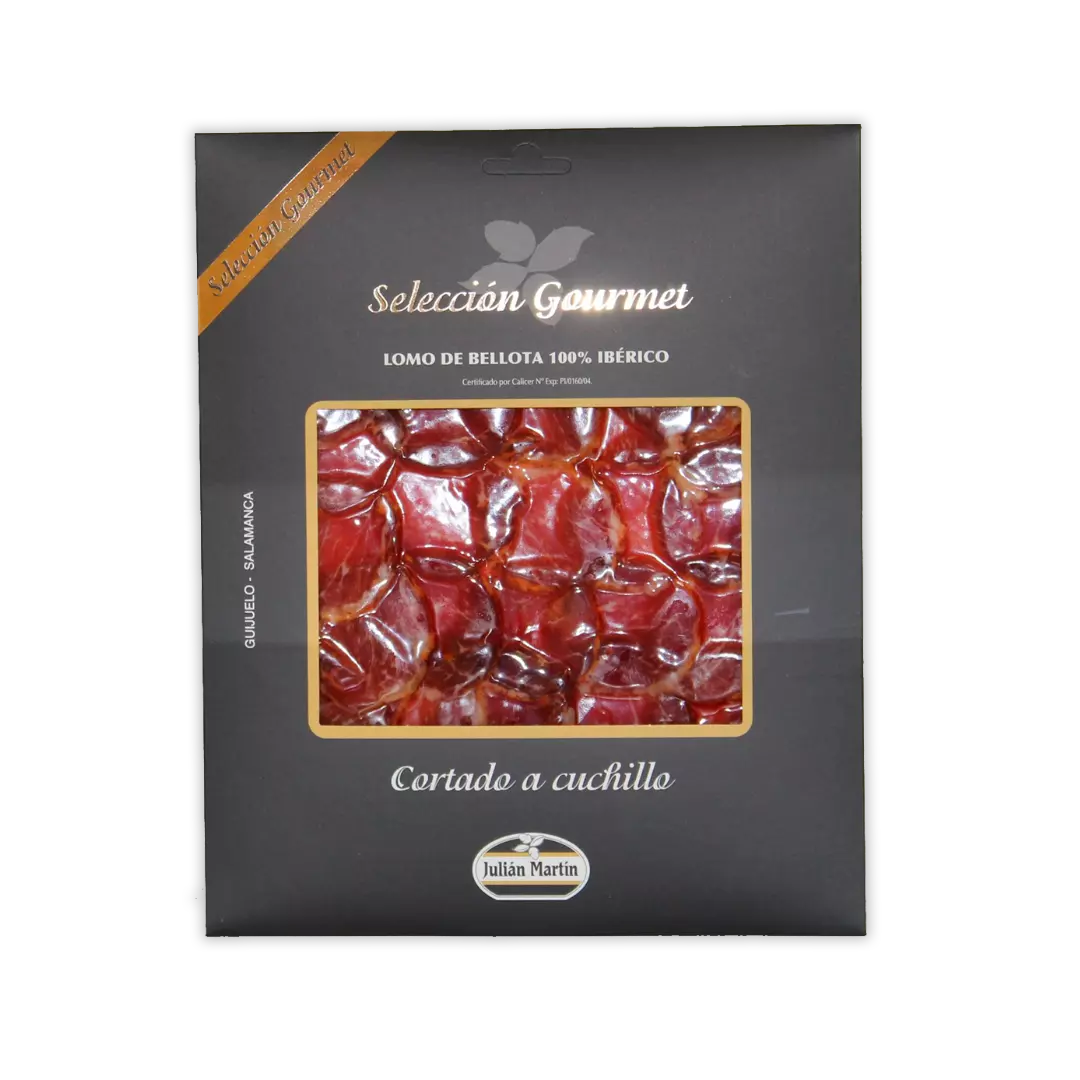 Hand-sliced Acorn-fed pork Loin 100% Iberian | Gourmet Selection
A real gourmet gift! 1 envelope of the best 100% Iberian Acorn-fed Pork Loin sliced with a knife by ham-carving masters and vacuum-packed with very special care, maintaining all the organoleptic properties of the product.
We select the best loins of 100% iberian porks to obtain a tasty Acorn-fed pork Loin elaborated in a traditional way with the best natural ingredients:  Jaraíz de la Vera paprika and selected spices.
In addition, we stuff it into hog-casings for curing during 4 months in our natural drying sheds and cellars. Enjoy an incredible flavour with the maximum quality of Julián Martín!
Characteristics of the Knife-sliced Acorn-fed pork Loin:
Origin: Guijuelo (Salamanca).
Elaboration: selected loins seasoned with Jaraíz de la Vera paprika and natural spices, stuffed within hog-casings for curing.
Curing period: 4 months.
Breeding: 100% iberian pigs.
Feeding: based on grasses, natural pastures and acorns during the mast-feeding season (October/ March).
Shipping: 1 sachet vacuum-packed at the same time as they are cut by the master cutters. They are presented in a box made of imitation leather.
Brand: Gourmet Selection.
| Energy value | 1,541 Kj/352 Kcal |
| --- | --- |
| Fat | 25 g |
| Saturated fats | 10 g |
| Proteins | 35 g |
| Carbohydrates | 0.5 g |
| Total sugars | 0.5 g |
| Salt | 5 g |
Why buy directly from Julián Martín's store?
In Julián Martín, we are manufacturers who have been specialized for 3 generations exclusively in the production of high quality Iberian Ham and Sausages. We have maintained a tight product quality policy for more than 80 years.
We have kept the traditional manufacturing process almost unchanged: the quality of Iberian ham is only achieved with exceptional raw materials, a special climatology and time, a long period of time…
Our Guarantee
If you are not satisfied with the product we change it at no additional charge. For more information you can contact us at +34 923 581 151 or by e-mail tienda@julianmartin.es